August 20, 2018, 06:17:44 PM
Welcome, Guest
News:
Forum rules - please read before posting, it can save you a lot of time.
2
on: August 16, 2018, 08:04:25 PM
Started by Chamferbox - Last post by Chamferbox
Introduction
Defending Camelot is a tower defense video game, similar to Plants vs. Zombies, developed for PCs and consoles. The game involves Arthur who use a variety of different warriors to prevent an army of undead and monsters from entering Camelot.
Trailer:
https://www.youtube.com/watch?v=CTbdbx1bI58
How to Play
In Defending Camelot, players place different types of heroes and warriors (units), each with their own unique offensive or defensive capabilities, in a battlefield, in order to stop a horde of monsters from reaching Camelot. The playing field is divided into 5 horizontal lanes, and with rare exceptions, a monster will only move towards the player's house along one lane. Planting costs gold, which can be gathered by farmers. Most units can only attack or defend against monsters in the lane they are put in. In later levels, players can purchase stronger units with different offensive and defensive abilities.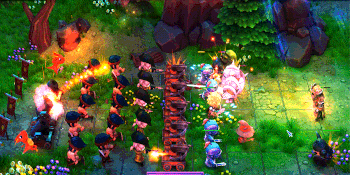 Screenshots:
You can buy the game at:
http://zekgame.com
We're running the Grand Opening Sales Event, use this promo code: EarlyBirds to get 30% off discount
4
on: August 14, 2018, 09:46:59 PM
Started by SvarunGames - Last post by SvarunGames
We've addressed the issues some of you had with our original K'NOSSOS Prologue release so we've decided to put out an updated version of the build.
Please download K'NOSSOS Prologue 0.029.18RC4-E05 Aug 2018 from our website:
http://svarunentertainment.com/setupKNOSSOS.exe
Change Log:
True-Type Fonts replaced by Bitmap Fonts, thus eliminating the problems some users had with the game installed on systems beyond Windows 7;
updated interface providing support for more recent changes in Windows 10, as well as any future changes to the Windows 10 interface;
adjusted early game difficulty - more difficult chalenges now lay ahead;
an addition of Easter Egg - no logic to it, see if you can find it!
5
on: August 13, 2018, 11:00:05 AM
Started by Uncle ALE - Last post by Uncle ALE
Сорри, что с запозданием, но ссылки на русик обновил; должно работать.
7
on: August 08, 2018, 03:35:02 PM
Started by Eric Matyas - Last post by Eric Matyas
Hi Everyone,
This week's brand new free tracks are:
"A Thousand Exotic Places"
on my Events/Travel 2 page:
https://soundimage.org/events-travel-2/
"4.2 Light Years" (Looping)
"Lost and Faltering"
on my Sci-Fi 7 page:
https://soundimage.org/sci-fi-7/
If you guys need some custom tracks created, I'm doing those as well at very low cost. Most people are pleasantly surprised at how affordable it is. Just let me know! :-)