1
« on: August 16, 2018, 08:04:25 PM »
Introduction
Defending Camelot is a tower defense video game, similar to Plants vs. Zombies, developed for PCs and consoles. The game involves Arthur who use a variety of different warriors to prevent an army of undead and monsters from entering Camelot.
Trailer:
https://www.youtube.com/watch?v=CTbdbx1bI58
How to Play
In Defending Camelot, players place different types of heroes and warriors (units), each with their own unique offensive or defensive capabilities, in a battlefield, in order to stop a horde of monsters from reaching Camelot. The playing field is divided into 5 horizontal lanes, and with rare exceptions, a monster will only move towards the player's house along one lane. Planting costs gold, which can be gathered by farmers. Most units can only attack or defend against monsters in the lane they are put in. In later levels, players can purchase stronger units with different offensive and defensive abilities.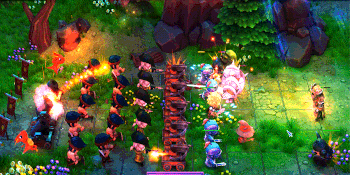 Screenshots:
You can buy the game at:
http://zekgame.com
We're running the Grand Opening Sales Event, use this promo code: EarlyBirds to get 30% off discount